Partner
Location: 551 Fifth Avenue, New York, NY 10176
Phone: 212-661-5030
Fax: 212-687-2123
Email: Email Me
vCard: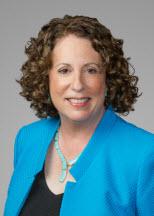 Ms. Kaufman handles complex litigation involving business and commercial matters, employment, product liability and toxic tort, and family law matters. She has also conducted investigations involving financial, employment and pharmaceutical issues.
In the commercial litigation area, Ms. Kaufman has handled litigation arising from mergers and divestitures and complex financial and real estate transactions.
In employment matters, Ms. Kaufman has defended sensitive race, age and gender discrimination and sexual harassment cases in both the state and federal courts and in administrative agencies, for companies in the pharmaceutical and financial services industries and for colleges and universities. Ms. Kaufman also handles Americans with Disabilities Act litigation cases and counseling. Through a thorough understanding of her clients' businesses and strategic objectives and creative lawyering, Ms. Kaufman has obtained defense verdicts at trial and after hearings, summary judgment, dismissals at the pleading stage, and prevailed upon opposing counsel and their clients to simply dismiss cases that lack merit.
In the product liability and toxic tort area, Ms. Kaufman has served as national coordinating counsel, national science counsel, New York counsel in mass torts and other pattern litigation and as a member of nationwide "virtual law firms." In these various roles, Ms. Kaufman has developed innovative strategies and achieved excellent results for her clients, ranging from defense verdicts at trial to summary judgment, to convincing plaintiffs to abandon their cases due to a lack of merit. She has identified and developed top experts in various scientific fields and medical disciplines and turned them into effective testifying experts. As a corollary to her work in this field, she has worked closely with regulatory affairs, mergers, divestitures and acquisitions and marketing personnel, and helped to develop and coordinate media strategy.
In 2008, Ms. Kaufman was appointed by New York City Mayor Michael Bloomberg to serve on the Mayor's Advisory Committee on the Judiciary and served on that Committee through the end of the Mayor's term in 2013.
Ms. Kaufman serves as outside General Counsel of Legal Momentum, the former NOW Legal Defense and Education Fund and is an elected member of the American Counsel Association and of the Federation of Defense and Corporate Counsel.
Ms. Kaufman received her J.D. degree from the University of Richmond School of Law in 1978 (Williams Law Scholar) and graduated from Queens College of the City University of New York (magna cum laude, Phi Beta Kappa) with a B.A. in 1975. She is admitted to practice in New York and Pennsylvania, the United States Supreme Court, the United States Court of Appeals for the Second Circuit, and the United States District Courts for the Southern, Eastern, Western and Northern Districts of New York and for the District of Connecticut.
Bar Admissions
New York
Pennsylvania
U.S. Supreme Court, 1984
U.S. Court of Appeals for the Second Circuit, 1986
U.S. District Court for the Southern District of New York, 1978
U.S. District Court for the Eastern District of New York, 1978
U.S. District Court for the Western District of New York, 2002
U.S. District Court for the Northern District of New York, 1979
U.S. District Court for the District of Connecticut, 2006
Education
University of Richmond, School of Law, Richmond, Virginia
Queens College-CUNY

B.A. magna cum laude – 1975
Published Works
Author, "Sophisticated User Defense Gains Acceptance," Product Liability Law & Strategy, May 2009

Author, "Lone Pine Orders Increase Judicial Efficiency," Product Liability Law & Strategy, July 2008

Author, "Waiver of Attorney-Client Privilege and Work-Product Protection," Product Liability Law & Strategy, December 2007

Author, "FDA's New Labeling Rule Asserts Federal Pre-emption of State Product Liability Claims," Product Liability Law & Strategy, April 2006

Author, "New Federal Rules for Electronic Discovery May Become Effective in 2006," Product Liability Law and Strategy, October 2005

Author, "Federal Pre-emption of Failure to Warn Claims in Recent Drug Cases," Product Liability Law & Strategy, July 2005

Author, "Discoverability of Attorney Work Product Communications Supplied to Experts," Product Liability Law & Safety Reporter, October/November 2004

Author, "Electronic Discovery in Mass Tort MDL Litigation," Product Liability Law & Safety Reporter, February 2004

Author, " Statewide Coordination of Mass Tort Cases," Product Liability Law and Safety Reporter, July 2003

Author, "Certification of Nationwide Class Action Suits," Product Liability Law & Safety Reporter, October 2002

Author, "The Federal Judicial Center," Product Liability Law & Safety Reporter, April 2002
Classes/Seminars
Chair, ABA Section of Litigation Women in Litigation Joint Conference, Leading for Success in the Courtroom, in the Judiciary, and in the Profession, Philadelphia, Pennsylvania, November 15-17, 2017.  For more information, please visit https://www.americanbar.org/groups/litigation/events_cle/2017_women_in_litigation_joint_conference.
Moderator, ABA Section of Litigation Women in Litigation Joint Conference, "Women Lawyers as Judges: Diversifying, Leading, and Excelling in the Federal and State Courts," Philadelphia, Pennsylvania, November 16, 2017.  For more information, please visit https://www.americanbar.org/groups/litigation/events_cle/2017_women_in_litigation_joint_conference.
Co-chair for the 2017 ABA Annual Meeting, Annual Section of Litigation Events & CLE, CLE Showcase programs to help sharpen litigation skills and stay abreast of developing legal issues, New York, New York, August 10–12, 2017
Co-chair for programming, Federation of Defense and Corporate Counsel ("FDCC") Symposium, "The In-House Lawyer's Toolkit – A Two-Day Conference for In-House and Outside Counsel Seeking to Provide Value Added Services to Their Clients," New Orleans, Louisiana, September 28-30, 2015. For more information about the FDCC and the Corporate Counsel Symposium, please go to www.thefederation.org
Moderator, Federation of Defense and Corporate Counsel ("FDCC") Symposium, "Managing our Insurers: A Second Track that Litigation Counsel Needs to Manage", New Orleans, Louisiana, September 29, 2015. For more information about the FDCC and the Corporate Counsel Symposium, please go to www.thefederation.org
Panelist, Judicial Intern Opportunity Program (JIOP) Orientation, "Building a Successful Law Career: Keys to Professional Success," the U.S. District Court, Southern District of New York, June 18, 2015
Honors and Awards
New York Super Lawyers Business Litigation, 2014
New York Super Lawyers, 2006 – 2018
New York Super Lawyers Top Women Attorneys, 2013 – 2014
Metro Super Lawyers, Top 50 Women Attorneys in New York, 2015 – 2016
One of Top 50 Women Lawyers in New York – Best Lawyers in America, 2009 – 2010
Best Lawyers in New York, New Jersey and Connecticut, Business Litigation 2010 – 2013
Best Lawyers in America, New York, Product Liability Litigation – Defendants, 2007-2018
NAWL, Outstanding Member, 2006
Martindale Hubbell AV Preeminent Rating, 1995 – 2016
Professional Associations and Memberships
New York City Bar Association, In-house/Outside Litigation Counsel Group, Co-chair
State Courts of Superior Jurisdiction for The Association, Executive Committee , 2000 – 2004
Committee on State Courts of Superior Jurisdiction
New York City Bar Committee on the Judiciary, Blue Ribbon Task Force on Judicial Selection Committee, 2004
Committee on Law Student Perspectives
Mayor's Advisory Committee, appointed by New York City Mayor Michael Bloomberg, years 2008 – 2013
Federation of Defense and Corporate Counsel, Member
American Counsel Association, Member
The National Association of Women Lawyers, Past President
ABA Standing Committee on the Federal Judiciary, Second Circuit Representative, 2009 – 2012
ABA Section of Litigation, Co-chair, 2016-2017; ABA Annual Meeting, Co-chair, 2015 – 2016, Rules Roadshow; and Former Secretary and Member of Council